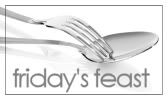 Appetizer
Have you ever played a practical joke on anyone? If so, what did you do and who was your victim?
My boyfriend at the time HATED when people made the fishy face – you know when you suck in your cheeks and pucker our your lips? So I took pictures of everyone we knew doing that and pasted them all over his cube, little out of the way places, just everywhere. We even hacked into his login on his SUN box (yes I had connections) and made the intro screen be me doing it! It was great! He was finding the fishy face pictures for weeks!
Soup
What do your salt and pepper shakers look like?
Now that I have to describe them – kinda phallic! Silver tubes with a cover on each. The only way I know which is which is to shake one cause I only fill the salt!
Salad
Where is the next place you plan to visit (on vacation or business)?
Business – Wisconsin – cross your fingers they have an early spring
Vacation – ! Woohoo!
Main Course
What kind of lotion or cream do you use to keep your hands from getting too dry?
In the office – bath and body works cucumber melon body cream
After I shave – Arboronne FYI – mysterious flavor
Other time – SilverPlume Sundries body butter
Dessert
Make up a dessert, tell us its ingredients, and give it a name.
Seriously there are just waaay to many yummy deserts to make one up!
Here is my current favorite Apple Cinnamon Coffee Cake